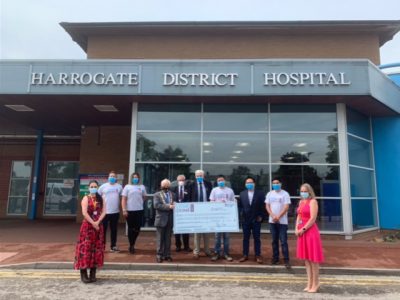 On Friday 31 July, Harrogate District Foundation Trust received an incredible donation of 24,000 surgical face masks from Living and Home and 5 Stars Trading, two companies based in Manchester.
This is an incredible donation for which the Trust is extremely grateful.
John Zhou, Managing Director of 5 Stars Trading, and Tony Chen, a Director of Living and Home, who decided to make the donation to the Trust, have strong connections to Harrogate and its hospital. Both of their daughters were born there, John's twins staying for two weeks on the Special Care Unit.
The masks will be distributed around the hospital to both clinical and non-clinical areas, as masks are now mandatory in all areas of the building.
John said: "We wanted to donate the masks because we have a close connection to Harrogate and we know how many the Trusts use each day at this time."
Sammy Lambert, Business Development, Charity and Volunteer Manager, said: "We are blown away by the generosity of this donation from John and Tony. Our thanks to Cllr Bateman for organising this amazing donation. Masks must now be worn by all staff, patients and visitors to the hospital at all times so the donation has come at a perfect time. They will be extremely useful to us and will allow us to continue to provide safe and high quality care."