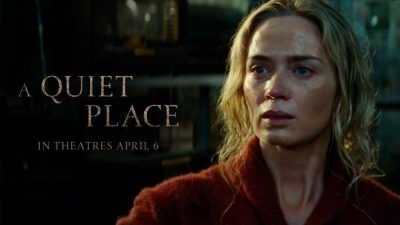 What better way to spend a typically rainy April afternoon than a visit to one of Harrogate's fine cinemas. The title was appealing: "A Quiet Place" but the genre not one of my favourites: "horror". As it happened it was a very scary film. One of those where you catch yourself jumping and then checking to see that no one else has noticed but they have been doing the same.
The premise was that the world had been overrun by a colony of monsters-huge, dinosaur like creatures without skin but who were blind. They destroyed all in their path so it was wise to keep very quiet.
We followed the existence of a family trying to evade this threat. Emily Blunt was the mother, heavily pregnant, and her husband in the film, and in real life as it happens is John Krasinski. He also was the film's director. Their children were brilliantly played by Millicent Simmons and Noah Jupe. Millicent is a teenage girl and he is actually deaf. Most of the film was conveyed through sign language with subtitles to guide the audience. This added to the irony of the theme as she lived in her own quiet place in reality. The film's conclusion linked well to this.
The movie was one continuous "edge of the seat" suspense where we were waiting for the first noise to come through despite the sound proofing devices that the Krasinki family had put in place. And when it did we ducked too.
I do not watch too many horror films but this one at 95 minutes was full of action, full of audience empathy and despite the odd touches of sentimentality, these were rescued by the convincing acting of the children particularly. It is worth watching their interviews on You Tube to show how intelligent these two young actors are. Of course Emily Blunt rarely fails to engage us on screen in a range of roles which have included "The Girl on The Train and "Sicario" . Krasinski's direction is sharp and every frame counts.The background music was haunting in a "slow-downed "Jaws" sort of way. The sign language was American and the decision ultimately to use sub-titles was essential in my opinion.
The film has been well received and for me it is borderline 4/5 stars and a thoroughly watchable experience albeit through opened and closed fingers in front of your eyes.
JM 28/04/18