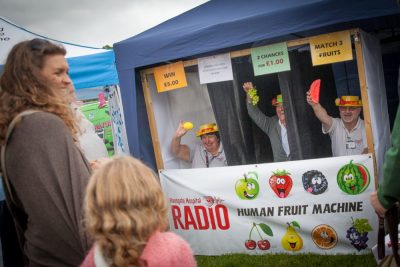 Here we are again; another fabulous summer is almost at an end!
Harrogate Hospital Radio will be 42 years old in October. Since I took over as chairman in May 2015, there have been lots of changes as you may, or may not be, aware of. And we have certainly been going through testing times since last November, when Hospedia was removed from the hospital wards.
However, it's not all doom and gloom I might add, because Harrogate Hospital Radio's team of fabulous volunteers have shown we will not be defeated in our progress within the hospital. Had we have not been proactive in designing and implementing our service "on-line", our brilliant free app, and installing wi-fi radios in various departments within the hospital, the story I'm telling you today would certainly be very different.
The great news is I'm delighted to report that Harrogate Hospital Radio is going from strength to strength. Our total listening hours for the last three months was 2.629 hours. This exceeded my expectations and I am delighted with the results.
We can now monitor how many devices are tuned in to Harrogate Hospital Radio, and this is shown on the home page of our internal website for presenters to see. Again, the results are very encouraging.
One thing I wanted to do when I took over as chairman was to work more with the Hospital Trust and to promote activities and events within the hospital. This is working very well with a significant number of departments within the hospital. HHR has certainly achieved this over the last few months.
Our dedicated team of request collectors now visit the children's ward, "Woodlands", on a regular basis, collecting requests for our evening request show. We play the requests specifically for the children and their families on the ward.
This month I am delighted to report the brilliant new show that Jonathan Tullet is presenting on HHR, Thursday afternoon 1pm–2pm (repeated on Saturday afternoon at 5pm–6pm) called FOR WARDS THINKING. Jonathan is working very closely with Dr Hameed from the Sir Robert Ogden Centre on an individual medical issue, allowing doctors to give the scientific knowledge and allowing patients to say what it really is like living with, or experiencing, the issues at hand.
This month, September 23, Harrogate Hospital Rdio will be at the Nidderdale Show in Pateley Bridge. We will be at the event all day. And not only will we be broadcasting live throughout the day, we will be there with our "Human Fruit Machine". If you haven't experienced it, I suggest a visit – and a go – is well worth while!.
Until next month, do get well soon, and keep supporting and listening to Harrogate Hospital Radio.
Yours
Mark Oldfield
Chairman, Harrogate Hospital Radio