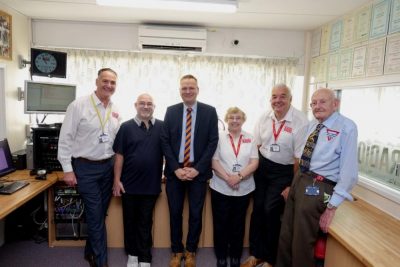 Hello, and welcome to my October blog.
Well, here we are, our birthday month has finally arrived.
Harrogate Hospital Radio will be 40 years old on Sunday, October 22nd.
Harrogate Hospital Radio was started by Peter Lilley in 1977 and, when the station first started to broadcast, we had just one turntable, one reel to reel tape machine and one microphone.
The studio was based in a "broom cupboard", with the record library housing four radio tuners. We eventually bought what can only be described as the disco decks along with the reel to reel, a microphone and a cassette deck .
Over the years as our society grew – and so did our collection of records, tapes and CDS, it became clear the studio was no longer fit for purpose, and we asked the hospital if they had anywhere for us to expand into. I'm delighted to say they had, and we did, and we moved to a location which remains our current base.
Initially it boasted a record library and a separate studio with twoturntables, two CD players, two microphones, reel to reel tape machine, cassette machine and a three-stack Cart machine for playing our jingles.
Harrogate Hospital Radio set out on a major fundraising campaign to raise £20,000 to refurbish the studio with new state-of-the-art equipment – much of which we still use today. Following on from that, we then asked if we could expand into another room, and, again the hospital listened to us, and granted us our wish, which enabled us to furnish another studio, identical to the original.
Studio 1 is named in honour of our longest serving member, Ian Wighton, and Studio 2 is named in honour of a former chairman, the late Vince Willis.
Today, Harrogate Hospital Radio has more than 45 active members, including our longest serving member of just short of 40 years, Ian Wighton,and our oldest volunteer, Harry Lewis, who is aged 92!
We have a fantastic team of 12 request collectors who visit the wards Monday- Friday, collecting requests for our flagship request show.
Harrogate Hospital Radio broadcast over 90 hours of live music every week.
We are always on the look out for new members, in particular request collectors, presenters andtechnical operators, to help make HHR even better than we are today. Please look on our website for more details, or call our studio on 01423 55 33 42 for more information.
Harrogate Hospital Radio has so many people to thank over the years – our loyal members past and present, the thousands of patients we have played requests for, and, crucially, Harrogate District Hospital and its wonderful staff who have supported us every step of our 40 year broadcasting journey.
Here's to the next 40 years!
Happy birthday Harrogate Hospital Radio.