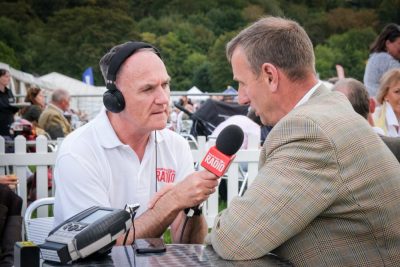 Welcome to my October blog.
Yet another busy month for us here at Harrogate Hospital Radio!
Now, you may have noticed over the week of September 21-29, a VERY prestigious event came to Harrogate. Yes, the UCI World Road Cycle Championships were in town and what an event it was. Nine days of amazing cycle races around Yorkshire.
I spent most of the first Sunday at the "fan zone", looking at the exhibitors and the attractions. I was very impressed with everything on offer. I also had the pleasure of meeting BBC sports presenter, Clare Balding, who very kindly recorded a get well message to the patients of Harrogate District Hospital. (You may hear the message periodically on Harrogate Hospital Radio).
The event culminated on Sunday, September 29, but sadly the weather was the worst we have seen in months. It rained (sometimes torrential) all day, only stopping when the last cyclist had crossed the finish line.
Sadly whilst we can't predict the weather, we can predict the very warm welcome all the visitors to Harrogate would have experienced. In my opinion, this event showed the world what a beautiful area we live in. If you were lucky enough to see any of the races you, like me, should be extremely proud of our town, the way we "welcomed the world", and the skill in which it stages events of this size.
And in other news!
Monday, September 23, we spent the day at The Nidderdale show in Pateley Bridge.
We were there with our "Human fruit machine". And if you are intrigued in that, then go to our website to take a look! It is one of the innovative ways we raise funds to enable us to keep broadcasting from our Harrogate District Hospital studios.
If you know of an event we could attend then please get in touch via our website, and we will get back to you to arrange a meeting. Who knows, you or your family and friends might see us out and about!
On another note, Adele G and Jonathan T return on Fridays between 6pm and 8pm – try to tune in if you can, it will certainly put a smile on your face!
Keep supporting Harrogate Hospital Radio and we look forward to receiving your requests and dedications for our evening request show.
Get well soon
Mark Oldfield
Chairman
Harrogate Hospital Radio