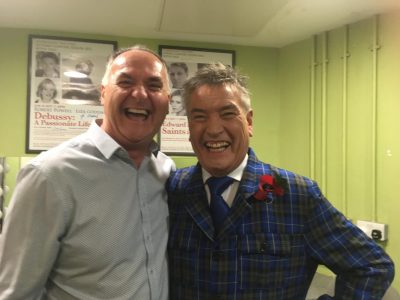 Welcome to my November Blog.
Well what a birthday month October was!
A visit from BBC Look North, broadcast on BBC 1 the same evening. An interview on Stray FM. A simultaneous broadcast on BBC Radio York with Jericho Keys and Oliver Stables' breakfast show live from HHR studios!
On Friday, October 20, we held an amazing 40th birthday celebration evening at Bilton Working Men's Club. A great night was had by over 140 people.
On Sunday, October 22 – our official birthday – we started the day with a special birthday breakfast show with Oliver Stables and myself. Peter Hustwit, Oliver and myself then went round the wards request collecting for our four hour marathon birthday request show. We collected over 50 requests. What an end to a fantastic day!
On Friday, October 27, we finished our celebrations on a high as we attended the Volunteer Oscars held at the Old Swan Hotel in Harrogate. We were presented with a special certificate from Cllr John Fox, for Harrogate Hospital Radio celebrating 40 years of broadcasting at Harrogate District Hospital.
On Saturday, October 28, Ellie Jackson, Cathie Hague and myself went to the Old Time Music Hall organised by the Friends of Harrogate Hospital, held at the Royal Hall in Harrogate.
…
Our very own Simon Berger was part of the show – a great performance from Simon and his barber shop colleagues.
The star of the show was Yorkshire's very own comedian, Billy Pearce. He brought the house down and my cheek bones ached all afternoon. He was very good!
…
I had the pleasure of interviewing Billy and even then he was so funny. Billy gave a special message to the patients of HDH.
Well, time to come down off 'cloud nine'. Now time to concentrate on the next events at Harrogate Hospital Radio, namely our Christmas schedule. More of that next month.
…
Keep tuned to HHR while you are in hospital and of course you can listen on line.
Here's to the next 40 years at Harrogate Hospital Radio!
Best wishes
Mark