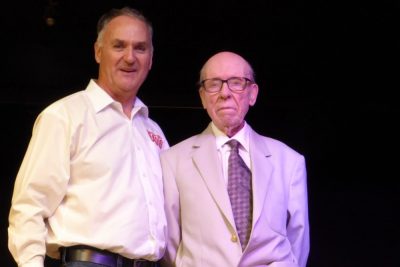 October was Harrogate Hospital Radio's 39th birthday. Carl Richards presented a special birthday show playing every number one from when HHR started in 1977 to the present day.
October also saw HHR attend two quiz nights raising more much needed funds for the station.
The quiz at The Royal Oak, in Dacre Banks, raised £129. The quiz at The Woodlands, on Harrogate's Wetherby Road, raised £131. Both were fantastic and fun nights for all who attended.
The biggest event held at Bilton Working Men's Club on Sunday, October 23, where former patient and HHR listener John Jackson organised a fundraising event for us. The evening, hosted by Scott Wall, was a great success.
Local singer Robbie Miller performed three sets on the night, and he was fantastic! His self-penned song "No Future" went down a storm.
The raffle prizes totalled over 60 and raised more than £500 for HHR.
We cannot thank John enough for his efforts. A massive thank you once again on behalf of HHR to everyone who came along.
November stars the raffle ticket selling season for HHR, and Ellie and her team will be in the foyer at the hospital on the following dates;
Monday, November 21
Wednesday, November 30
Thursday, December 1
Each member has a minimum of three books to sell, so please do your best to sell your quota.
Highlights for this month are:
BROADWAY SWING – Thursdays 4pm-6pm with Phil Browne. An hour of songs from Broadway and West End shows, and then an hour of classic swing music from the 20s, 30s and 40s.
Fridays 6pm-7pm sees Scott Wall back on HHR with a new show called WALLY'S WOW. An hour of fantastic tunes that make you say "WOW! I haven't heard that song in ages".
Lots more to come in December, so remember to tune in to HHR if you are a patient at Harrogate District Hospital, and, remember, your friends and family can also listen on-line!