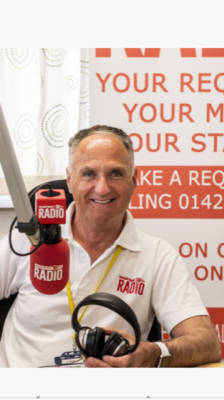 Hello, welcome to my May blog.
Here we are, still in lockdown as I write this month's blog. What a strange month April has been for us all, as our daily routines are all but banished because of the pandemic that is Covid-19.
Harrogate saw the opening of the Nightingale Hospital for Yorkshire and Humberside, and to date has had no patients admitted to it. Let's hope and pray it stays that way!
Harrogate Hospital Radio has been busy with shows as usual, albeit a little different to our normal schedule, which we hope will resume in the not too distant future with our request collectors getting back on the wards visiting you, the patients of Harrogate District Hospital.
One of many good things to come out of the lockdown is I extended my Saturday morning music zone show from 10am – noon to 9am – noon, incorporating The Woodlands Hour at 9am, especially for the children on Woodlands Ward.
This show has been a massive success after I installed a WiFi radio on the ward. We have been getting lots of requests from the ward, not only from patients but staff too, who I've been told love Harrogate Hospital Radio.
During last month, I received a picture of two children (at the top of my blog this month) listening to The Woodlands Hour, particularly the story that my Niece, Beth Jenkins (a teacher at Woodside Academy in Knaresborough) reads to the children during the show.
The Woodlands Ward is scheduled to have its Dayroom renovation completed soon and a second WiFi radio provided by HHR will be installed when completed.
Also on the Saturday morning music zone, I have had the opportunity to interview guests on the show, for example, Bill Caw, an HHR trustee and former Chairman, and a fundraiser from Saint Michael's Hospice, in Harrogate.
Bill set himself a challenge to grow a beard and raise £1,000 during the lockdown. Bill has already smashed his target and to date has already raised more than £2,000, which will ALL go direct to Saint Michael's Hospice. Well done Bill.
Also on the show, I had the pleasure of talking to The Mayor of The Borough of Harrogate, Coun Stuart Martin, who has had first-hand experience of the coronavirus, as his wife, April, was treated for the virus, spending some time in intensive care. April is well on the road to recovery, thanks to the care she received at Harrogate District Hospital.
You can hear the full interviews by clicking on the link below.
Recently, Harrogate Hospital Radio placed another order for more WiFi radios as we have had requests from more departments, including the new entrance to A&E (while the pandemic is active) and also from MDU where a patient himself requested Harrogate Hospital Radio be played in its waiting room. This will be actioned once the radios arrive.
Another fantastic edition to the schedule during the lockdown is the Sunday Social Live from The Big Broadcast Towers, in Lancashire, with the brilliant Richard Smith. This is a two-hour show that has lots of interaction from guests from hospital radio stations around the UK. Richard also plays requests during the live show and has received a few from Harrogate District Hospital, so we are very happy to support Richard and the team on the Sunday Social.
Until next month, when I hope and pray I will be writing some better news and things will be returning to normal, take care, stay safe and as always do get well soon.
Thank you for all your support during these unprecedented times.
Mark Oldfield