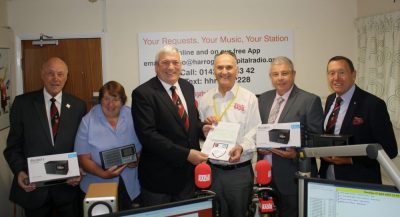 Welcome to my May Blog
What a busy month April was for Harrogate Hospital Radio!.
After a turbulent time when the hospital terminated its contract with Hospedia, we are going from strength to strength. Thanks to our fabulous team of request collectors our evening request shows are busier than ever, and this will continue as the plans to add more radios and tablets to the wards carry on. We will keep you updated on the plans as they happen.
On Sunday, April 7, we held a quiz night at The Royal Oak Inn at Dacre. We had a fabulous night and it was packed to the rafters. Lots of Harrogate Hospital Radio members attended the quiz and we were treated to a pie and pea supper. The result of the evening was we raised £246.50 for our funds. Thank you to everyone who attended.
Thursday, April 25, I had the pleasure of sitting in for Cathie on the Pick n Mix show with Ellie. Ellie and I were joined in the first hour by the Freemasons from Harrogate and Claro Lodge, who very kindly presented us with a cheque for £3,000.
This money will go towards more wifi radios and tablets we are planning to buy (more about that very soon).
We were then joined in the studio in the second hour by Steve Russell, the new Chief Executive of The Trust. Steve told us about his career to date, and, on his arrival, how welcome he has been made by everyone at Harrogate District Hospital.
Steve is very committed to Harrogate Hospital Radio and our future at Harrogate District Hospital (again more about that later).


Here is a link to the interviews with the Freemasons and Steve Russell.
www.harrogatehospitalradio.org.uk/highlights
Get well soon and, as always, keep tuned to Harrogate Hospital Radio
Mark Oldfield
Chairman, Harrogate Hospital Radio