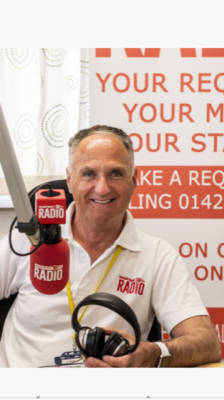 Hello and welcome to my quarterly blog, an update at what has gone on, and is coming up over the next few months, at Harrogate Hospital Radio.

As we are all aware, the COVID-19 pandemic continues to dominate our lives in many ways. There is light at the end of the tunnel as the vaccine is rolled out, and very good news that the government is reaching its vaccination targets.

Volunteers at Harrogate District Hospital are very fortunate to have been offered the vaccine. I was delighted to receive my first jab some weeks ago and looking forward to my second on 1 April. I understand most of Harrogate Hospital Radio Volunteers have taken advantage of the vaccine to enable them to present programmes from our studios.

As Harrogate Hospital Radio is still unable to send our wonderful request collectors round the wards, our evening request shows are still very much 'live', and there are many ways to get in touch with us to request a song, not just for patients but patients families and staff – who incidentally are doing the most incredible job in these difficult times. All the details are on our APP and on or website www.harrogatehospitalradio.org.uk

HBA (HOSPITAL BROADCASTING ASSOCIATION)

Now, every year the HBA (Hospital Broadcasting Association) holds its annual awards ceremony and for the second year in a row it will be a virtual ceremony, again because of the pandemic!

The awards will be held virtually on  Saturday March 20th and the shortlist for categories have been announced

Harrogate hospital radio have been nominated in 2 categories this year 

Best Station Promotion – Harrogate hospital radio birthday show with Ellie and Mark
Best Newcomer – Chris Wright.
Good luck.
PROGRAMME UPDATES
Here is an update on some programme information coming up from March.
IN CONCERT
As we know there are no live concerts for obvious reasons and therefore we thought  it would be a good idea for Harrogate Hospital Radio to get you 'virtual' front row seats as we re-launch our In Concert Series. Yes, we will be bringing our In Concert series at 9pm on Saturday evenings, starting from 6 March. One great concert from some of the best artists around, both past and present). We certainly hope you enjoy these shows.
WALDEN'S WORLD
Tim Walden hosts 'Walden's World' every Thursday 6pm-8pm. Tim has a feature called 'Everyday People' which features some great guests talking about their everyday lives.
Tim will be doing an interview with one of the clergy from St John's & St Luke's in Harrogate about the success of their weekly online church services during lockdown. This will be featured on an up and coming 'Walden's World' soon.
MARATHON BROADCAST
On Sunday, May 2, Daniel Wilson, our fundraising officer here at Harrogate Hospital Radio, will be launching a 24-hour marathon broadcast to help raise awareness and much-needed funds for Harrogate Hospital Radio. More about this very soon on our website.
Until next time, stay safe, get well soon and keep tuned and supporting Harrogate Hospital Radio.