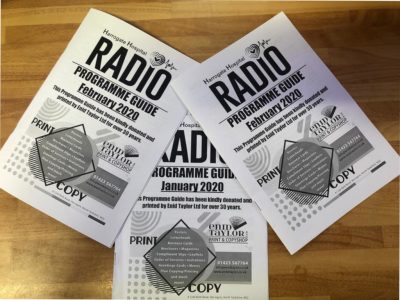 So, what kind of music do you like?
Soul music?
Then join Ian Smith every Sunday 8pm-10pm, and Andy Bellwood every Monday 1pm-3pm
Classical or songs from shows?
Join Derek England every Sunday 6pm-8pm and Ruth Stapleton every Sunday 10am-11am
Music from Around the Globe?
Adele G plays music from around the globe each Thursday between 4pm and 5pm
Feel good music?
Mark Field plays just that on Feel Good Fridays, 4pm-6pm
Whatever type of music you like you have the opportunity to choose your own song with Harrogate Hospital Radio on our very popular Evening request show.  Our Request shows are Monday – Friday's 8pm-10pm
Don't worry if you miss your request, as the shows are repeated the following morning between 8am-10am
This month is the HBA (Hospital Broadcasting Association) annual conference. The conference starts on Friday 27th at 10.00am with the annual award ceremony taking place on the Saturday evening.
Harrogate Hospital Radio have been shortlisted in 4 categories this year, we are delighted to have been short listed in the following categories.
Best Newcomer – Catherine Stables, Catherine's show, Long Hot Summers is broadcast on Wednesday afternoons, from 4pm – 5pm
Best show with Multiple Presenters – G & T, Adele G and Jonathan T broadcast this show on Fridays 6pm-8pm
Best Female Presenter – Adele G, Adele presents Around the Globe on Thursday afternoon from 5pm
And finally, …
Best Station……..  Harrogate Hospital Radio.
Fingers crossed for all our nominees and to everyone at HHR for making this possible.
Prosecco on ice as we speak!