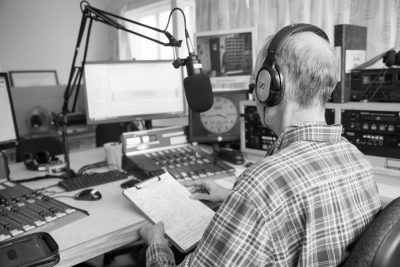 Well, following my blog last month, I am happy to announce our display cabinet is now up and proudly displaying Harrogate Hospital Radio next to the Endoscopy Unit. I have to say it looks very well and has been noticed by quite a few "top" people at the Trust!
I would like to welcome two new request collectors to the team, Jean Robey and Val Storey. Both ladies are now active in collecting on a regular basis. Welcome officially to the team, ladies.
And talking of new recruits, I would also like to welcome Amy Townson. Amy has passed her demo and will soon be a regular presenter on HHR. I would also officially like to welcome Shaun Gill back to HHR. Shaun took a break from the station and is now back presenting the request show and his new Saturday musical memories show between 11am and 1pm. Welcome back Shaun.
Scott Wall also has a new show starting in March called Milestones. It's on Wednesdays between 2pm and 4pm and in it Scott will feature music either ten, 15, 20, 25, 30, 40 or 45 years old.
Martin Fretwell also has a new look Friday afternoon show. Again on between 2pm and 4pm, it will take an eclectic look at the 80s. His show does what it says on the tin!
February saw Scott launch HHR's very own Facebook and Twitter accounts. These are proving very popular as we have had lots of "likes" and "follows" and is generating quite a bit of interest from prospective members. Watch this space to see how it develops!
Finally, the month of March is when we hold our annual general meeting. I would like to formally announce I will be applying to be chairman once again. My first term has been a fantastic experience and in that short time I feel HHR has come on leaps and bounds. And, as it is our 40th birthday year, I am really exited to be leading HHR through this birthday year.
So, if I am successful I will be back with my April blog next month!
As always keep tuned into HHR while you are in hospital and don't forget you can listen on-line.