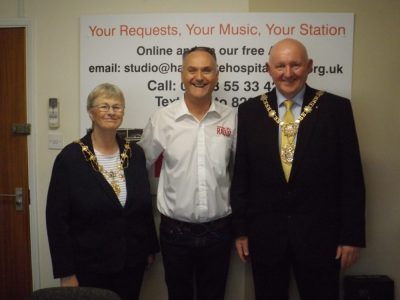 June was a very busy month for us at Harrogate Hospital Radio. Fundraising is vital to us as it enables us to provide the fabulous service, we, as volunteers, deliver to the patients and staff at Harrogate District Hospital on a daily basis.
Last month's fundraising activities included a coffee morning at St Cuthbert's Church in Pateley Bridge and a cake stall in the foyer at Harrogate District Hospital. These are just two events we did to raise money for the society.
Another event was a talk given by Ellie Jackson, Mike Streeton and I to The Nidderdale Society. We spoke about the history of Harrogate Hospital Radio, the service we provide to HDH and our future.
If you know of any organisation that would be interested in hearing a talk from Harrogate Hospital Radio members, or attending an event, please do not hesitate to contact me. or any of our members, for more information.
You can find all our contact details on our website and on our free app.
I look forward to hearing from you
Get well soon. Keep supporting Harrogate Hospital Radio and we will keep providing our fabulous service.
Saturday, June 8, I was honoured to welcome His Worshipful The Mayor of the Borough of Harrogate, Coun Stuart Martin MBE, and the Mayoress, April Martin, to the studio as guests on my show, "The Saturday Morning Music Zone".
It was good to chat to Stuart and April on air about his background, his year ahead as Mayor, and how HHR can be involved with his fundraising. Stuart was very keen to involve Harrogate Hospital Radio, in particular our Human Fruit Machine!
You can listen to the full interview – and in particular the fun part – where Stuart took part in my feature "Spin it or Bin it".
June also saw HHR members at the annual Knarsborough Bedrace. As always, we broadcast live from this event, "bringing the outside in".
The following week we were once again "bringing the outside in", this time at the Harrogate Hospital 'It's a Knockout' fun day.
My thanks to all the team who were involved in both events. Highlights of both events can be found on our "listen again" section of the schedule.
So, until next time, thank you as always for your support and we'll keep doing what we do best, namely entertaining the patients and staff at Harrogate District Hospital.