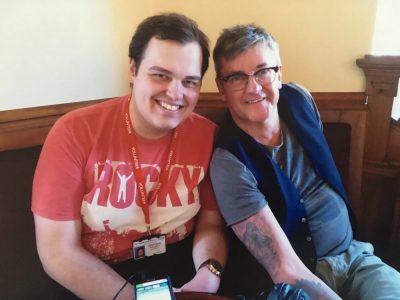 Hello and welcome to my July blog, where is this year going?
June was a very busy month for us here at Harrogate Hospital Radio. The team took part in two outside broadcast, The Knaresborough Bed Race and The 1940's day in Valley Gardens, highlights of both events can be found on our listen again page on our website, www.harrogatehospitalradio.org.uk
Another highlight in June was when Jonathan Tullet went to meet Joe Pasquale, who was appearing at Harrogate Theatre in the stage play of "Some Mothers do Have 'em". You can listen to the interview on the listen again page, as above.
This month see the Volunteer award ceremony at Herriot's restaurant on July 3rd and I will be covering this event in my blog and in the programme guide next month.
We would like to welcome Tom Overton who is our latest recruit here at HHR. You can listen to his fantastic new show , "The Tommy O Show" on Saturdays from 3pm. Well worth a listen!
On July 5th Our award winning presenter Ellie Jackson and I will be attending the O2 Media awards (Yorkshire and The Humber) at a star studded event at Leeds United FC's Norman Hunter Suite. The event will be hosted by BBC Breakfasts Louise Minchin. Ellie has been invited to present the O2 Radio Broadcaster of the Year. More about that in my August blog.
And finally,
Starting in August we have a brand-new Sunday evening request show – more details next month.
Until then we all wish you well and a speedy recovery and don't forget to keep tuned to Harrogate Hospital Radio.
Best wishes
Mark Oldfield
Chairman HHR