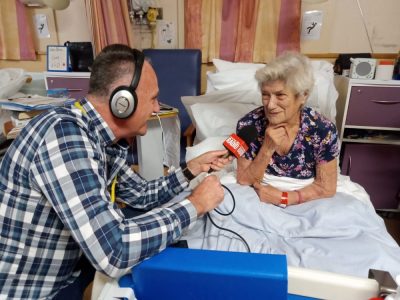 Hello and a very happy New Year to you and your nearest and dearest.
Welcome to a new year and a new year of blogs and I'm delighted to say that there exciting times ahead of us at Harrogate Hospital Radio.
2019 saw some major changes the way you can watch TV and listen to Harrogate Hospital Radio within the hospital. Working in partnership with the hospital trust, we are going to be making some big changes to make it even easier to listen to us this year. So watch this space for more information!
If you haven't got a device to listen to us, please let our request collectors know, or alternatively, call the studio on 01423 55 33 42, and we will do our best to supply you with a WiFi radio during your stay.
At the end of 2019, Harrogate Hospital Radio took part in the BIG Broadcast 2019. Request collector Ann Kilroy and myself went round the wards, where we met a number of patients who were not only live on the show but had their requests played for them. It was, and always is, a fabulous experience meeting the patients and their families. And yesterday was no exception.
The picture included is of a lady called Sandra who was on Nidderdale Ward. She chose Bryan Adams, Everything I do I do it for you. She was thrilled to be on the radio.
Our plan is to do more of these live request visits on the wards, so watch out for us if you're unfortunate enough to be in hospital, and you too could be live on the radio!
We all hope you get well quickly and are back home with your friends and family very soon.
Remember, you can download our free app and still tune in to Harrogate Hospital Radio from the comfort of your home.
Best wishes and get well soon.
Mark Oldfield
Chairman, HHR