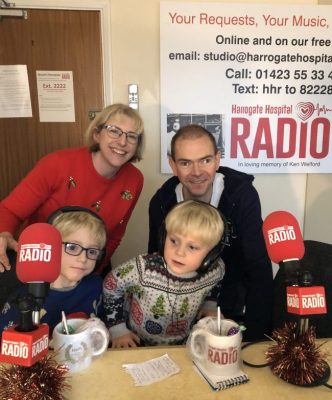 Welcome to my January blog.
First of all on behalf of everyone at Harrogate Hospital Radio, may I take this opportunity to wish you and your families a very happy new year.
To begin the new year as a patient at Harrogate District Hospital may not be the best start, but we wish you a speedy recovery, and, tuning in to HHR online and via our free APP, we will endeavour to make your stay just that little bit better.
Just before Christmas we held our Christmas raffle to raise funds to carry on broadcasting within Harrogate District Hospital, and I have to say it was a record year for us. So my thanks to everyone who bought a ticket and congratulations to Bill Jones who won our first prize of £150.
In November, Dr Albert Day held a celebration concert for 70 years of the NHS at the Royal Hall in Harrogate, and Harrogate Hospital Radio donated a unique raffle prize for the winner to come to the studios to take part in our own version of Desert Island Discs. The winners were William and Oscar Buckley who joined Mark Field on his Saturday morning Music Zone on December 15. (See the attached picture of William and Oscar with their mum and dad, Fiona and Neil Buckley, in the studio).
The boys chose some fabulous music and thoroughly enjoyed themselves in the studio.
Remember to listen out for some fantastic new programmes here, on Harrogate Hospital Radio, over the next few months. In our new schedule, some programmes will move times, so please take a look at the schedule on our website and listen out for some fabulous shows we have lined up for you in 2019.