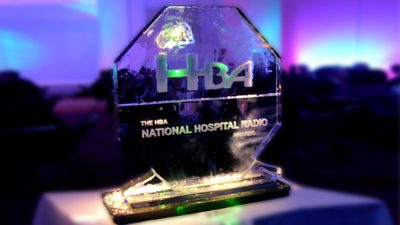 A very happy and prosperous new year from everyone at Harrogate Hospital Radio.
2018 has started off in style for Harrogate Hospital Radio, as we have had various nominations announced for the Hospital Broadcasting Awards to be held in Windsor in March.
Best Newcomer – Jonathan Tullet
Best Female Presenter – Ellie Jackson
Best Male Presenter – Mark Field
Best programme with multiple presenters – Steve Pexton and Ann Kilroy for the evening request show.
And lastly Best Station – Harrogate Hospital Radio.
Fingers crossed for all the above, it really will be the icing on the cake as we celebrate 40 years of broadcasting at Harrogate District Hospital.
2018 is going to be a year of big challenges and opportunities for HHR – but more about these changes as they happen.
As always we will be bringing the "outside in" at events in 2018 such as the Great Yorkshire Show, The Knaresborough Bed Race and Nidderdale Show.
On July 1, Harrogate Hospital Radio will be at the Big Picnic once again in Harrogate's Valley Gardens with our Human Fruit Machine. Always guaranteed fun to be had by all!
Tune in to Harrogate Hospital Radio either by Hospedia channel 2 or online and remember to watch out for our fabulous team of request collectors who visit the wards, weekdays from 2pm onwards, to collect your requests for our evening request show.