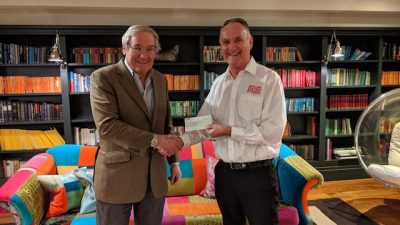 Here we are, well into 2020. Where does the time go?
Another year of planning and fundraising to keep Harrogate Hospital Radio broadcasting is well underway here at our studios within Harrogate District Hospital.
In December Rudding Park held a Christmas carol service, and at the end of their well-attended annual event – the congregation were invited to give donations, with the proceeds that night going to Harrogate Hospital Radio. I'm delighted to say this raised more than £560.
I would also like to say a huge thank you to Nicola Pollard, a Harrogate Hospital Radio trustee, for giving a reading at the service on behalf of everyone at the station. We would also like to offer a huge thank you to the management, staff and to all those that attended the carol service for their generous support.
I was invited to Rudding Park to receive the donation from Simon Mackeness, one of the owners (pictured at the top of my blog), it was a pleasure to meet him. Without donations such as those received from Rudding Park, we would not be able to provide the level of service that we do.
We would like to offer our thanks, not only to Rudding Park, but also to our sponsors and all those who have supported Harrogate Hospital Radio in the last year.
On another really positive note, since the removal of Hospedia, the bedside entertainment system, Harrogate Hospital Radio is recording some of its highest listening figures . This is in part thanks to our request collectors who are spreading the word about the station around the wards, not only to patients, but also to their families and friends and also to the staff at Harrogate District Hospital.
The majority of our WiFi radios are tuned in to Harrogate Hospital Radio. I would like to say a big thank you to our request collector coordinator, Peter Hustwit, who checks all the radios to ensure that they are tuned to Harrogate Hospital Radio.
We are hopeful here at Harrogate Hospital Radio that Harrogate District Hospital will opt for WiFi Spark, a new patient entertainment system. As Chairman I am very much behind this system. For those of you unfamiliar with WiFi Spark, it is a UK-based company specialising in patient entertainment systems utilising wifi. We understand that members of the Hospital planning team will be visiting an NHS site that is currently using WIFI Spark. We await the outcome of their findings.
I will of course keep you up to date.
Best wishes, get well soon.
Mark Oldfield