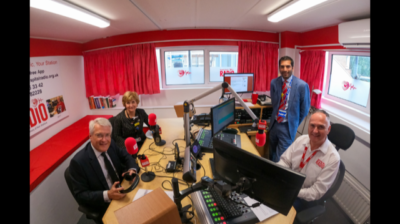 WELL WE DID IT!
Harrogate Hospital Radio launched on 95.3FM on September 1st at 9.53am.
Andrew Jones MP for Harrogate and Knaresborough joined me in the studios as I hosted a day long broadcast showcasing most of our shows on Harrogate Hospital Radio.
Andrew chose some great music as part of the launch. He chose London's burning by the Clash, Dancing in the dark by Bruce Springsteen and Soul limbo by Booker T and the MG's – Great choices.
Andrew was joined was also joined by Angela Schofield (Chair of the trust) and Steve Russell (Chief executive of the trust).
Andrew very kindly launched Harrogate Hospital Radio at 9.53am to coincide with our frequency 95.3FM.
Harrogate Hospital Radio opened its door to visitors on Saturday October 2nd. It was a great success as we could potentially gain a new request collector as well as a technical assistant.
Harrogate Hospital Radio is 44 years old this month, WOW look how far we have come. Preparations are underway for our 45th birthday special in 2022!.
I am proud to announce our fabulous team of request collectors will be back visiting the wards collecting requests and dedications to family, staff and friends to play on our evening request show Monday – Friday 8-10pm from MONDAY NOVEMBER 1st. Watch out for them ad they visit the wards.
Finally….
Sadly, we have said goodbye to Oliver Stables and Peter Hustwit who have both been a very loyal members of HHR. Both will be sadly missed not only by their colleagues at HHR but the trust as well. We wish you well Oliver and Peter.
Get well soon and Keep tuned to Harrogate Hospital Radio NOW ON 95.3FM!