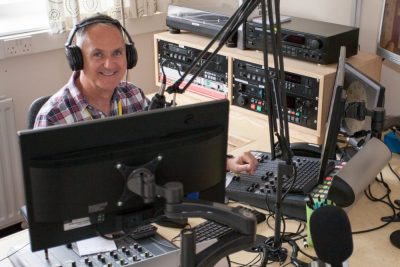 As you can see you are reading this month's blog on our newly launched new look website.
Archie Griffiths (our youngest volunteer at Harrogate Hospital Radio) has very kindly worked hard on presenting a fantastic new look website for us. I hope you can take some time and explore the new site with its new features, not only what is going on at Harrogate Hospital Radio, but news from Harrogate District Hospital Trust. Just click on the link and it will take you directly to their website. Over the next few weeks and months we will be adding to it on a regular basis.
Harrogate Hospital Radio attended The Big Picnic, held last month in the Valley Gardens. My thanks to everyone who helped at the Big Picnic, it was great fun as always and the weather was perfect. It was especially nice to meet Richard Smith who presents The A to Z of pop on Harrogate Hospital Radio weekdays noon-1pm. Richard thoroughly enjoyed himself.
Maplin's in Harrogate has very kindly donated two wi-fi radios and Harrogate Hospital Radio has also purchased two. These will go in public areas within the hospital.
David Simister (HHR publicity officer) very kindly came along to take a photograph of John Gill, Harrogate Maplin store manager, and me, which will hopefully gain us and them some good publicity.
The places nominated for the wi-fi radios are as follows:
Orthopaedic /Fracture clinic
Herriot's restaurant
WRVS
GP out of hours
I am working with HDH IT personnel to place the radios in these areas.
On Friday July 29, representatives of the Duke of York Community initiative award scheme came to the studios and met members, looked at our constitution documents, and went on ward visits, to collect requests and talk to patients about the service we give. The object of the visit was for Harrogate Hospital Radio to retain this community initiative that was first award to us five years ago.
Watch this space to see for an update!
Highlights for August:
Join Ann Kilroy and Steve Pexton for their new titled Wednesday show It's 5'O'clock somewhere'. Wednesday 5pm-6pm.
Join Ian Wighton for a repeat of the Chart Show Rewind on Mondays, 10am- noon.
And of course don't forget our request shows Monday to Friday 8pm -10pm repeated 4am-6am and again 10am-noon Tuesday to Friday, and 11am-1pm on a Saturday.
Keep tuned to Harrogate Hospital Radio while you are in hospital and remember, you can also listen on-line!