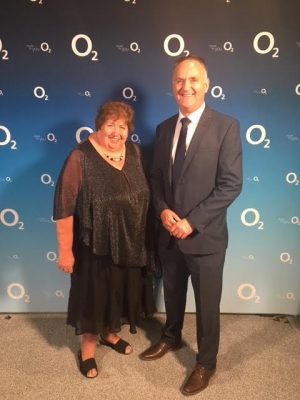 Hello and welcome to my August blog
I hope you having been enjoying summer 2018 it seems to have been a very long summer so far with the fabulous weather we have had recently.
July saw the team at the Annual 'Big picnic' held in valley gardens on July 1st, once again the weather was amazing (one of the hottest days of the year).
Harrogate hospital radio were there with our Human Fruit Machine, we had a over 100 people have a go and we had four jackpot winners, it was great fun as always.
On July 5th Ellie Jackson and I attended the 02 media awards in Leeds. Ellie was invited to present an award and was interviewed on stage by BBC Breakfast host Louise Minchin about her time, shows and her own awards she has won at Harrogate Hospital.
Louise, along with the Malone family who are a regular family on Cannel 4's Gogglebox recorded a special get well message to patients at Harrogate Hospital.
July 3rd was the annual celebration volunteer awards held in Herriots restaurant.
Members of HHR were amongst over 80 people who attended the award ceremony.
The trust Chairman Angela Schofield presented long service awards to the following people from Harrogate Hospital;
James Pollard 10 years
Phil Browne 25 years
Derik England 30 years
And an incredible 40 years to Ian Whigton
Many congratulations and thank you for your loyalty and dedication everyone.
Finally
How would you like a record or dedication on Harrogate Hospital Radio?
Our request collectors will be visiting the wards as we do Monday to Friday from 2pm onwards collecting requests. Details of how to contact the studios are in the programme guide and on our website.
Best wishes,
Mark Oldfield Chairman, HHR