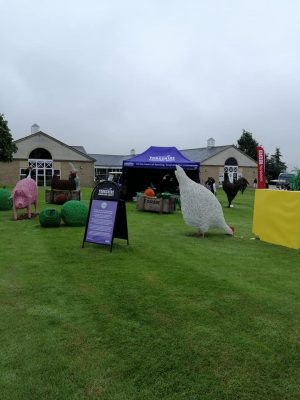 Welcome to my August blog.
Well, July was a busy time for Harrogate Hospital Radio.
Last month's big event was our brilliant team of volunteer presenters spending three days "bringing the outside in" to Harrogate District Hospital, when they broadcasted live from the Great Yorkshire Show.
On the first day, Adele G and Oliver Stables interviewed some very interesting exhibitors and visitors to the show, as did Martin Fretwell, Ian Whighton and Peter Hustwit.
If you would like to listen again to some of the highlights, then please click on the link below and enjoy! And whilst you are there, you might want to listen to some of the other highlights we have been fortunate enough to cover here at Harrogate Hospital Radio
https://www.harrogatehospitalradio.org.uk/highlights/
How would you like to become a volunteer at Harrogate Hospital Radio?
We are always looking to boost our membership and we currently have opportunities for presenters, request collectors and technical operators.
A couple of months ago Ellie Jackson, Mike Streeton and I gave a talk to members of the Nidderdale Society at Dacre Village Hall. I was talking to a lady who became interested in becoming a volunteer at HHR. She has since been on our website and applied to become a request collector.
It is so easy to apply; all you have to do is go to our website and fill in the online application form (https://www.harrogatehospitalradio.org.uk/volunteer/). We will then invite you to our studios to "meet the team" and see our studios.
Please note, all prospective applicants undergo security checks via the hospital.
Providing all checks are passed, you will be invited to an induction programme, thereafter you will be issued with your ID badge and our team will then train you in your chosen role.
If this is something you're interested in, why not apply today?
So, until next month, get well soon and keep your eye out for our request collectors who visit the wards from 2pm, Monday through to Friday.
Mark Oldfield
Chairman, Harrogate Hospital Radio