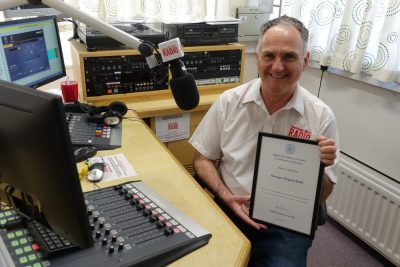 Hi everyone,
Well here I am again chairman at Harrogate Hospital Radio for another year. Thank you to those who proposed and seconded me. It's going to be a fantastic year for us as we celebrate 40 years of broadcasting from within Harrogate District Hospital.
March has been a fantastic month for us at Harrogate Hospital Radio. Scott has worked wonders on a new recruitment scheme using Facebook and Twitter. David did a fabulous write up for the Harrogate Advertiser and Harrogate Informer. We have had five people apply to become request collectors for us. All these prospective volunteers are currently going through the process as we speak.
I would like to officially welcome Amy Townson as a presenter and her new show starts the first Wednesday in April (check out our program guide and the website for more details).
Congratulations to Ellie Jackson who picked up the Bronze Award for Best Female Presenter at the Hospital Broadcasting Association Awards held in Bolton.
I would also like to welcome Kenny Welford as a trustee at Harrogate Hospital Radio. After four years as treasurer, Kenny has decided to stand down. My thanks to Kenny for doing a splendid job.
At our AGM I had the pleasure of presenting former chairman Ian Wighton a lifetime achievement award, and to name studio 1 in his honour. Thirty-nine years service to Harrogate Hospital Radio is a remarkable achievement.
Finally the biggest news of all; Harrogate Hospital Radio has been awarded the Duke of York Community Initiative Award for another five years. I, along with other members of the committee, will be going to St James's Palace in London to receive the award from HRH Prince Andrew.
My thanks to everyone who was involved in instigating the award. I am personally thrilled that we have been awarded it again.
Well, until May remember to keep tuned to Harrogate Hospital Radio if you are in hospital, and, of course, your friends and family can listen online, and even send a request via the website to play a record for you on our evening request shows.
Best wishes
Mark