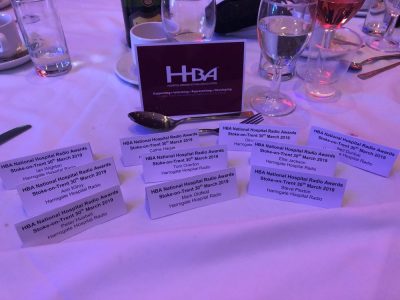 Welcome to my April blog.
April 1st is April Fools' Day, isn't it?
Well, over the last few weeks Harrogate Hospital Radio has had an influx of applications to join its fantastic team, and they certainly aren't fools!
In fact, if their applications are successful they would be joining a fabulous team here at Harrogate Hospital Radio, and not only will they be entertaining you, they will be giving something back to the community.
It is so easy to apply. If you, or even someone you know, can spare a couple of hours or more a week, please go onto our website (www.harrogatehospitalradio.org.uk) and apply directly. However, you do need to be 18 or over.
We have roles to suit ages and abilities; request collecting for our evening shows; technical operators, and, of course, presenting.
If you do fancy joining our great radio station then why not do yourself, and us, a favour and fill in the online form? And we look forward to receiving your application soon!
On Friday March 29th, a number of Harrogate Hospital Radio members set off to Stoke-on-Trent to the Hospital Broadcasting Association conference.
On Saturday, I joined them for the awards ceremony along with Cathie Hague and Tom Overton (who both up for an award, along with Ellie Jackson).
The HBA conference is always good fun and it's the fourth time I've attended. The evening starts with pre dinner drinks and nibbles, a conference tradition in Ellie Jackson's hotel room!
This year's dinner started at 7.30pm and the awards ceremony kicked off at 9.30pm. Sadly our Harrogate Hospital Radio nominees didn't pick up any awards, but these awards ceremonies always motivates us to think about the year ahead.
The official part of the evening finished at around 11pm and then the disco began. For me, and quite a few others, Saturday night stretched well into Sunday morning – 4.30am to be precise! I'm certainly getting far too old to stay up that late, but it really was fun.
So, as I said, no awards for Harrogate Hospital Radio this year, but there's always next year to look forward to.
I need to recover now and I certainly hope you do too whilst you're in hospital.
Get well soon and thank you as always for supporting Harrogate Hospital Radio.